Overview
Plantar fasciitis is the most common cause of pain on the bottom of the heel. Approximately 2 million patients are treated for this condition every year. Plantar fasciitis occurs when the strong band of tissue that supports the arch of your foot becomes irritated and inflamed. The plantar fascia is a long, thin ligament that lies directly beneath the skin on the bottom of your foot. It connects the heel to the front of your foot, and supports the arch of your foot.
Causes
There are several possible causes of plantar fasciitis, including wearing high heels, gaining weight, increased walking, standing, or stair-climbing. If you wear high-heeled shoes, including western-style boots, for long periods of time, the tough, tendonlike tissue of the bottom of your foot can become shorter. This layer of tissue is called fascia. Pain occurs when you stretch fascia that has shortened. This painful stretching might happen, for example, when you walk barefoot after getting out of bed in the morning. If you gain weight, you might be more likely to have plantar fasciitis, especially if you walk a lot or stand in shoes with poor heel cushioning. Normally there is a pad of fatty tissue under your heel bone. Weight gain might break down this fat pad and cause heel pain. Runners may get plantar fasciitis when they change their workout and increase their mileage or frequency of workouts. It can also occur with a change in exercise surface or terrain, or if your shoes are worn out and don't provide enough cushion for your heels. If the arches of your foot are abnormally high or low, you are more likely to develop plantar fasciitis than if your arches are normal.
Symptoms
Plantar fasciosis is characterized by pain at the bottom of the heel with weight bearing, particularly when first arising in the morning; pain usually abates within 5 to 10 min, only to return later in the day. It is often worse when pushing off of the heel (the propulsive phase of gait) and after periods of rest. Acute, severe heel pain, especially with mild local puffiness, may indicate an acute fascial tear. Some patients describe burning or sticking pain along the plantar medial border of the foot when walking.
Diagnosis
Plantar fasciitis is usually diagnosed by your physiotherapist or sports doctor based on your symptoms, history and clinical examination. After confirming your plantar fasciitis they will investigate WHY you are likely to be predisposed to plantar fasciitis and develop a treatment plan to decrease your chance of future bouts. X-rays may show calcification within the plantar fascia or at its insertion into the calcaneus, which is known as a calcaneal or heel spur. Ultrasound scans and MRI are used to identify any plantar fasciitis tears, inflammation or calcification. Pathology tests (including screening for HLA B27 antigen) may identify spondyloarthritis, which can cause symptoms similar to plantar fasciitis.
Non Surgical Treatment
Reducing inflammation in the plantar fascia ligament is an important part of treatment, though this does not address the underlying damage to the ligament. Initial home treatment includes staying off your feet and applying ice for 15 to 20 minutes three or four times a day to reduce swelling. You can also try reducing or changing your exercise activities. Using arch supports in your shoes and doing stretching exercises may also help to relieve pain. Nonsteroidal anti-inflammatory drugs (NSAIDS), such as ibuprofen (i.e. Motrin or Advil) and naproxen (i.e. Aleve), are often used to reduce inflammation in the ligament. If home treatments and over-the-counter anti-inflammatory drugs don't ease the pain, an injection of a corticosteroid directly into the damaged section of the ligament can be given. Your doctor can do this in his or her office. Your doctor may use an ultrasound device to help determine the best place for the injection. Corticosteroids can also be administered on the skin of your heel or the arch of your foot, and then a painless electrical current is applied to let the steroid pass through your skin and into the muscle. Physical therapy is an important part of treatment for planter fasciitis. It can help stretch your plantar fascia and Achilles tendons. A physical therapist can also show you exercises to strengthen your lower leg muscles, helping to stabilize your walk and lessen the workload on your plantar fascia. If pain continues and other methods aren't working, your doctor may recommend extracorporeal shock wave therapy. Sound waves are bombarded against your heel to stimulate healing within the ligament. This treatment can result in bruises, swelling, pain, and numbness, and has not been proven to be consistently effective in relieving symptoms.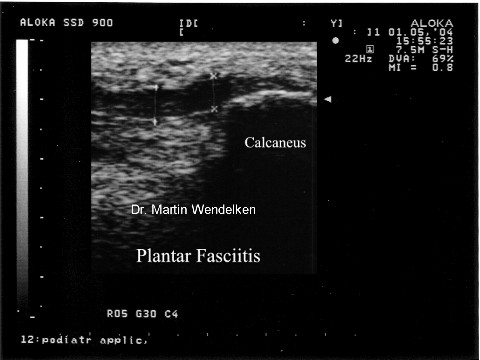 Surgical Treatment
Surgery for plantar fasciitis can be very successful in the right patients. While there are potential complications, about 70-80% of patients will find relief after plantar fascia release surgery. This may not be perfect, but if plantar fasciitis has been slowing you down for a year or more, it may well be worth these potential risks of surgery. New surgical techniques allow surgery to release the plantar fascia to be performed through small incisions using a tiny camera to locate and cut the plantar fascia. This procedure is called an endoscopic plantar fascia release. Some surgeons are concerned that the endoscopic plantar fascia release procedure increases the risk of damage to the small nerves of the foot. While there is no definitive answer that this endoscopic plantar fascia release is better or worse than a traditional plantar fascia release, most surgeons still prefer the traditional approach.